The artist presented the song "In a white dress"
Czechs presented today a new single - "In a white dress", a touching composition for wedding celebrations. The artist wrote the words and music himself, and he sings the song together with the singer Tatyana Dubrovskaya.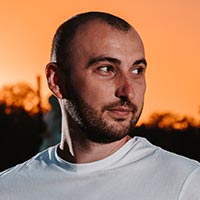 The artist tells how the track was born as follows:
"There was a period when I often attended weddings, and my favorite moment of the holiday was the first dance of the young people. He is very personal, beautiful, everything around freezes during him, it is always anxious and exciting. Therefore, when I was working on a new song, I represented this very dance, trying to make the text and music look modern and romantic. I would like to dedicate the composition "In a white dress" to all the brides. If you want the right music to dance with your fiancé or dad, here it is! "
I look forward to hearing the feedback and wish you all a pleasant listening! "
Lyrics of Chekhov's song "In a white dress"
Dancing in a white dress
Let everything freeze around
You are my breath
Tony in my arms
Circles on a new one on a new one
On a new on a new on a new basis it circles
Circles us with you
We apparently knew everything would be like this
And now your hands are in my hands
Your
Heart beats to my beat
My
Heart beats to your beat
And I'm like crazy
Looking for a new meeting
Hair gently falls on your shoulders
Cupid loaded from buckshot
We can't run away without injury
And I have nothing to cover these cards with
My feelings on repeat
My stories epithet
Like floating in orbit
Dancing in a white dress
Let everything freeze around
You are my breath
Tony in my arms
Dancing in a white dress
Let everything freeze around
You are my breath
Tony in my arms
On a new on a new basis we drown
On a new on a new on a new tone
We are drowning with you