Will create a festive atmosphere on any birthday and anniversary - a cheerful, kind and sincere author's composition Davida Divada @david_divad_official "Happy Birthday honey!".
Today, a Russian-language version of this song has appeared on digital platforms.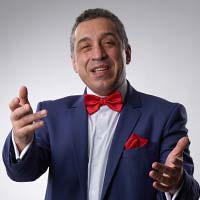 "It was written a long time ago and exists in different versions, including in the Georgian language. I often sing congratulatory songs at celebrations, but now, when we cannot celebrate birthdays with the past, when people due to the difficult world situation can no longer rejoice as before, I decided to release this single to support the audience, to give them smiles. ... I sincerely wish everyone peace, health and happiness! " - the artist comments.
Listen to the song "Happy birthday, dear!" on digital platforms and on our website.