"Gamarjoba Genatsvale" - this is the name of the cultural and creative movement, within which the popular author and performer David Divad holds musical evenings in Moscow where fans of good music gather.
Events are held in the restaurant "Khinkalnaya on Suschevka." Russian pop stars often perform here, and more recently the holding of thematic events, the idea and organization of which belongs to David, has become a good tradition.
"I moved to Moscow 9 months ago. I've already looked and researched everything, talked with people who are knowledgeable in different fields and concluded for myself that the best thing I can do here is to promote artists, both popular in various regions of the Caucasus, and beginners. I've already done something similar in Rostov, where I lived with my family, and therefore previous contacts and experience helped me a lot, "says the artist.
In the previously mentioned restaurant, "Tbilisi evenings" are being held with success now, where artists and spectators of different nationalities gather to have fun in a pleasant atmosphere, to remember everyone's favorite songs, and also to listen to new ones. David gave an opportunity to novice singers to perform on the same stage with eminent artists, and the audience - to get acquainted with the diversity of cultures of the Caucasian nationalities.
"I want beginners, talented, promising performers to have the opportunity to show themselves. Speak to the public, declare yourself. The path to success is very difficult and easier for them to help - one of the key tasks.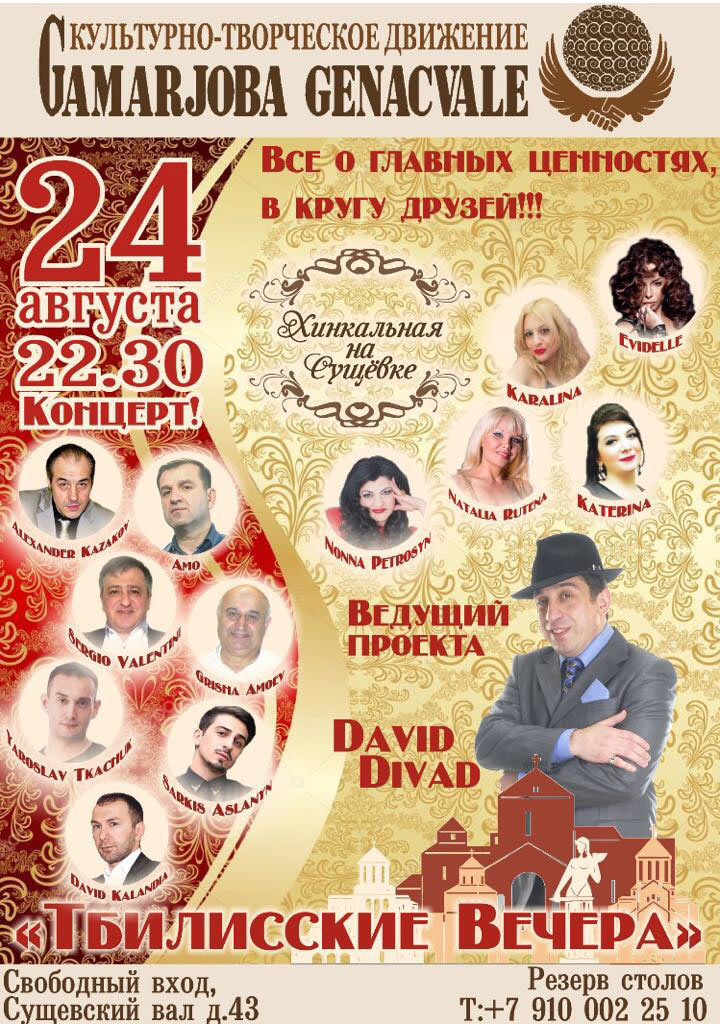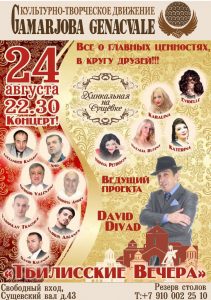 We have already spent 4 such evenings. It was hard to start, because at my solo concerts I don't worry so much as with all these organizational aspects. But everything went well and each time more fun, more powerful, new people, new stars. Despite the fact that now is not even the season, everything goes very well. The last two parties were generally a bang - we parted only at 4-5 in the morning! Everyone is happy, which means that the main goal has been achieved. People come with pleasure because they know that there is fun, they talk about the main thing here, songs of completely different nationalities and different emotional ranges are sung here. We create the atmosphere of Tbilisi evenings. What does Tbilisi evenings mean? Why not Georgian evenings? There were 180 nationalities living in Tbilisi, not counting nationalities. I can say that many people, arriving in Tbilisi, remained to live there. There were houses in which representatives of many different nationalities lived in one entrance. And the most buzzing thing was that when some holiday came, the neighbors got together and real magic was done! A cuisine represented by an abundance of food from different nations, music and dances of various cultures. And now we are reviving this very atmosphere, "says David.
In addition to such meetings, the artist plans evenings of other formats. So, starting from September, evenings of author's music will be held every Wednesday, on Sundays - Jewish, and once a month - Yezidi evenings. This is a great opportunity for aspiring artists to show themselves.
Contact the performances for the next party, please call: 8 (916) 838 7484, book tables: 8 (910) 002 2510.