A musical kiss in the days of quarantine sends to its listeners Davit sharabidze @david_divad_official - the artist presented the author's track in Georgian "Kocna minda" ("I want to kiss") and told what was sung in the song: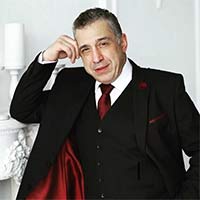 "This is a beautiful composition with deep meaning - it is about a man's tender feelings for a woman. About what happens to a person when he is inspired by love, he is overwhelmed with emotions, he wants to kiss, hug his beloved!
It is sad that this single comes out at a time when, due to the threat of the coronavirus, hugging and kissing is forbidden. But even this misfortune has its positive aspects - everyone is equal before it, and, therefore, it should unite people, make them kinder, more caring, and friendlier.
I have been observing the situation in the world for a long time and see that instead of loving people are killing each other. But sooner or later, everyone will come to their senses. Mankind has already experienced many of the most difficult moments on this planet, and we will certainly survive quarantine too. Now in my head there is such a philosophy: I'm not afraid, but sad, but I believe in the best. And I wish people that there were no painful partings with loved ones. Let the song bring a good mood and remind you that the time for hugs and kisses will come again soon! " - says the performer.
Listen to Davita Sharabidze's song "Kocna minda" on our website and on digital platforms.
Listen and download Davit Sharabidze's song "Kocna minda"