Today Joel @joel_mansura___ и Grigory Stadnik presented the debut album of the performer, which was named after her first song - "White Birds"!
The track list includes 8 tracks written over the past two years. What unites them is that each of these singles is a story from the life of Joel that happened to her during the period of the album creation. So, if you want to learn more about the delicate side of the singer's life, her work will be able to help you with this.
Listen and download Joel "White Birds" album
In 2017, the audience first heard Joel's bewitching voice - the single "White Birds" was released. Since then, together with her ideological inspirer and author of the project, Grigory Stadnik, the artist has been looking for her own style for a long time: both image-wise and musically. The result of these searches were compositions written in various genres, including: deep house, ethno, pop, Indian motifs, alternative music, and even pop-rock. By the way, the song "White Birds" is presented in the album in two new versions for listeners: intro in dance, and outro in ethno.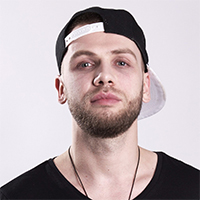 "The album is a collection of projects that we released, plus - we have added completely new tracks there. There, we have drawn a line under the stage of the time of the search and discovery of ourselves and combined it all into one program.
Each of these compositions is dear to us, because they are autobiographical. But, in my opinion, the song "On the Road" is more significant. According to the emotional component and meaning. Both for Joel and for me. This composition was a crazy experiment! Before her, we didn't work at all in this style, we just tried it once, but in the end we had a great track! Therefore, I think that we will gradually continue to work in this direction.
Today I want to say thanks to our fans that you are with us, that you listen to our songs! We have new shootings and recording of the next album ahead, so your support is very important for us! All happiness, goodness, good luck and love! " - says Grigory Stadnik.
We invite you to get acquainted with the album "White Birds" by Joel right now, and also remind you that it is available for listening and downloading on all major digital platforms.
We also offer fans of Joel to listen to her most popular songs according to the version of the Yandex.Music portal.