A new song by Alexander Gum "Native" has been released
The favorite of the public, the performer of the hits "I won't give up smoking", "She left" and others, Alexander Gum presents his new composition - "Native".
A new song by Alexander Gum has already appeared on all digital showcases. You can listen and download it on all major music services, including: iTunes, Google play, Apple music, Beeline Music, Yandex.Music, as well as in the BOOM application (for users of social networks Vkontakte and Odnoklassniki).
Listen and download the song "Rodnaya" by Alexander Gum
Created by renowned author Timur Kitov, the song came out in the usual style for Alexander - less sentiment, more experience. They are beautifully reflected in the manner of Guma meticulously filing stories of love.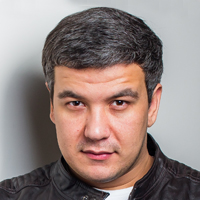 "When Timur showed me this composition, I immediately clearly imagined the whole picture in my head. I realized that this song is mine, - the singer recalls, - in life, as in the recording of new tracks, there should be no pretense. Only that which comes from the soul is true. Everything should be alive. So I sing, and I sing about that ... Today, on the day of the premiere, I want to wish all listeners happiness, prosperity and always strive for creativity! This is what saves us, besides love. "