A new single from the popular duo has been released: Ruslan Hasanov and Albina Kazakmurzaeva presented the song "Two Stars"!
This romantic, incendiary composition in oriental style is the third joint project of the artists who, since 2013, have "creatively found each other," as Ruslan says, and delight the audience with their musical tandem.
The song "Two Stars" was written by the lyricist Svetlana Hasanova and the composer Marat Gadzhimurzaev.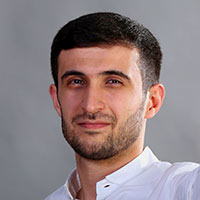 "The track is focused on something to charge with positive! We must enjoy life, be open to happiness and never lose heart! After all, "everything will be fine" - the performer quotes words from the new composition.
The single is already available on all major music services and on our website
Lyrics of Ruslan Hasanov, Albina Kazakmurzaeva "Two Stars"
If your heart is lonely
And they sound in a minor key, don't be sad
The sky was covered with clouds
Know that tomorrow will be better, let go
Even if something happens suddenly
You are always with me, my reliable friend
Who do you share your dream with?
If not with you, if not with you
Know and don't forget
Two stars in the sky, make a wish
Everything will be ok, everything will be as it should
Smile at the sun, smile at the sky
Never give up, neither to winds nor troubles
Two stars in the sky, make a wish
Everything will be ok, everything will be as it should
Smile at the sun, smile at the sky
And believe everything will be fine
You and I are so alike
You are my friend and I am yours too, smile
May the days be stormy sometimes
But how beautiful our life is
Good advice is important to me
We value friendship with you, me and you
I cry and laugh and am not afraid with you
Be yourself, be yourself
Know and don't forget
Two stars in the sky, make a wish
Everything will be ok, everything will be as it should
Smile at the sun, smile at the sky
Never give up, neither to winds nor troubles
Two stars in the sky, make a wish
Everything will be ok, everything will be as it should
Smile at the sun, smile at the sky
And believe everything will be fine
Do not forget
Everything will be fine
Two stars in the sky, make a wish
Everything will be ok, everything will be as it should
Smile at the sun, smile at the sky
Never give up, neither to winds nor troubles
Two stars in the sky, make a wish
Everything will be ok, everything will be as it should
Smile at the sun, smile at the sky
And believe everything will be fine
Two stars in the sky, make a wish
Everything will be ok, everything will be as it should
Smile at the sun, smile at the sky
Never give up, neither to winds nor troubles
Two stars in the sky, make a wish
Everything will be ok, everything will be as it should
Smile at the sun, smile at the sky
And believe everything will be fine
Everything will be fine
Do not forget