"Night over the city" is a continuation of the song "This Night" presented by EGO last week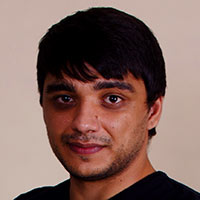 "Despite the fact that the new composition is performed in a completely different style, these two tracks are closely related in meaning," explains the performer. search, and the second reveals the reason why they cannot be together. "
You can find out what is the secret of the unfolded relations of the heroes of the song right now - the single "Night is Over the City" is already available on all the largest digital services and on our website.
The text of the song EGO "Above the city night"
You and I have long been
Slowly go to the bottom
This is not a secret.
She is ice cold
Summer suddenly came winter
Like a war
I know I was to blame
But do not bring back
Forget her
I won't leave you
Half without you
You're all mine
Night over the city
The lights go out
Let's run away with you
From the pain of longing
Quiet, let's quiet - it's all water
I will never give you to anyone
Night over the city
The lights go out
Let's run away with you
From the pain of longing
Quiet, let's quiet - it's all water
I will never give you to anyone
And I won't betray
I cheated on you
But I betrayed myself
Who am i now
It's all my fault
I want your laughter back
My eyes
What they watched in the morning
Loving me
But you're not the same
And deep inside
I broke you
And I can't save now
Wings are broken
Falls letting go
Do not be afraid, I will catch you - fly
Night over the city
The lights go out
Let's run away with you
From the pain of longing
Quiet, let's quiet - it's all water
I will never give you to anyone
Night over the city
The lights go out
Let's run away with you
From the pain of longing
Quiet, let's quiet - it's all water
I will never give you to anyone
And I won't betray