EGO presented a new composition - "Don't tell"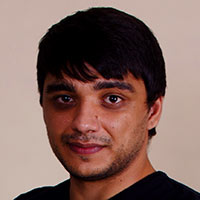 "The release of this song is timed to the anniversary of my YouTube channel," says the performer, "who turned 10 yesterday.
I wrote and recorded the song "Don't speak" at the beginning of 2020, but then I did not like the musical accompaniment, and it went into "standby mode" for a year. But a few days ago I suddenly stumbled upon it, and it dawned on me - I realized what exactly the instrumental was missing! It turned out that the whole problem was in the drama. Therefore, correcting in places, adding and removing a couple of clicks and pops in places, I got exactly what I wanted.
The track came out atmospheric. Although I initially understood that it was not aimed at a large audience, I was sure that those who liked it would like it a lot.
I am preparing for the release of many different projects and it is important for me that, regardless of the amount and genre of material, nerve and sincerity are preserved in each song. And how much I succeeded - the listeners can evaluate for themselves.
Lyrics of EGO "Don't speak"
I love the silence
Far from people
Dark night
The smell of dusty earth
After long rains
When the fog covers
And the moon is in the sky
When the scarlet sunset from the fire
But it's cheating it's not her
I'm behind you, you're from me
Like fire
But don't run away yeah
I will not scorch
I pray for you
Jealous
Do not say!
That time will heal
And it will become easier for me
Just be quiet!
Heart hurts
Bitch it hurts so much
Do not say!
That time will heal
And it will become easier for me
Just be quiet!
Just be quiet ...
Do you remember falling down
There is no bottom or edge
But could you take off
Now you're soaring
Flying so beautifully
Would go crazy
And forget about everything
Again until dark
Only she is in my head
And I'm talking about one thing
And I'm talking about one thing
Don't run away, yeah
I will not scorch
I pray for you
Jealous
Do not say…
Just be quiet ...
Just be quiet ...
Just be quiet ...
Do not say…