A new author's song EGO - "Palevo" has been released
The artist is actively working on replenishing the material, preparing for the solo program, and today presented another novelty.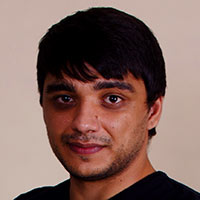 "We will sing the composition" Palevo "live with you at concerts in Moscow and in Vladikavkaz, - the performer addresses the audience, - by the way, there are two more songs that you have not yet heard, we will also sing them there!"
EGO performances will take place in Moscow: October 3, in the Asaki restaurant (beginning at 19.00, +7 925-844-87-20) and in Vladikavkaz: October 10, Metallurg recreation center (starting at 19.00, +7 928-722 -99-11).
My mamacita
She by her appearance
Pulls like a magnet
Setting the rhythm
To my heart
No rest now
You are my bombita
Bet on favorite
Will be sewn covered
This is dolce vita
And try on your smile for me
When smiling
I like her so much
And her eyes beckon
It's a cat's sly look
Howling a wolf at the moon
I follow her ay ay
Will look back wink
I want myself such at least one
I can see
The way you look at me secretly
I fly away into the clouds
My partisan I will burn you again
I burn you from afar
Are you watching?
Pale, pale, pale hey
Right, left I will be everywhere
My queen has no lava
But I'm in her head
It's left, left, left hey
Right, left I will be everywhere
My queen has no lava
But I'm in her head
I'm your Tony Montana
You are my Madonna
And your walk
She's outlaw
Stole my heart
Take care of my
Shooting with his eyes
You get into me
My pulse slows down
But I don't give up to you
I know that already mine
I'll get you
I can't see where are your wings?
Mama mia, my heart needs therapy
It is there knock knock, and who am I there?
you can not pull me under my own power. Did you wait? So there he is!
Breathe in love
Breathe in unison
No words needed
This is my sweet dream about you
Exhale happiness
This is the very juice
Let's get to know each other hello
Scarlet flower
My head is spinning
The earth from under your feet
She's crazy about her
I got you on fire, ay
Pale, pale, pale hey
Right, left I will be everywhere
My queen has no lava
But I'm in her head
It's left, left, left hey
Right, left I will be everywhere
My queen has no lava
But I'm in her head
Pale, pale, pale hey
Right, left I will be everywhere
My queen has no lava
But I'm in her head
It's left, left, left hey
Right, left I will be everywhere
My queen has no lava
But I'm in her head