In the repertoire of the popular rap artist EGO the novelty is a track called "Balagan", which takes the listener into the atmosphere of a sleepless night.
Listen and download the song EGO "Balagan"
EGO calls this composition experimental and tells that he had long doubted whether to release it or not.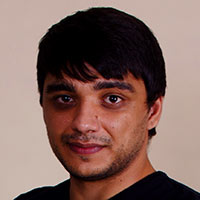 "I created the project last year, but I thought for a long time whether it was worth giving it life, because, in my opinion, it lacked musicality. But one day my close friend heard a demo version, and he liked it. Then I decided that I had no right to decide in advance for people whether it turned out good or bad. Let everyone hear and, perhaps, they will also like it! "- comments the performer.
"I am free, as if the wind will not catch me ..."
The theme of the track "Balagan" is a rest from everyday life and "flying away" from reality. What inspired the artist for her? Of course, everyone has a desire to take a break from time to time and not think about anything for at least a few hours ...
"I spend most of my time at work. She is sometimes tiresome, albeit very interesting. It happens that you want to break free and take a break from everything! From a calm state, go into uncontrollable chaos and release all the accumulated energy. The song describes exactly that. To live, work, rest - everything needs to be done in a thrill, because this is the only way to achieve maximum results. But you need to know when to stop. That is, indulge in, without disturbing others, as the main character does in the first verse.
I myself am rarely in this state, but sometimes, like in any person, a desire wakes up to breathe in all the oxygen of this world and, having scored everything, fly away from the everyday problems that surround us! ", - says the artist.
New song EGO "Balagan" is already available for listening and downloading in all digital stores!