The performer himself describes the composition "Ce la vie" as sad, a little even cruel, but sincere lyrics. Few people know, but this song is an updated version of the track "Clink of Coins".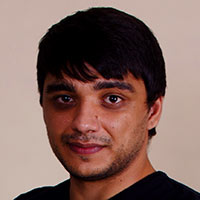 "I have long wanted to rewrite and change it, - comments EGO @ music.ego- but at the same time I did not touch the main and main meaning.
It tells about a guy's love for a girl, for whom money is more important than feelings. The story is as old as the world: realizing her mistake, the heroine tries to regain the relationship, but this is no longer wanted by the main character, who is in love and disappointed at the same time. It is the mixing of these two feelings that is the song itself.
Having written it, I did not pursue the goal of teaching anyone anything. Such cases have been, are and will be. I just wanted to carry it through my work. Since I am always attracted by strong emotions, for me this is the main component of a good composition. "
The single "Ce la vie" can already be heard on digital platforms and on our website.
Soon you will also get acquainted with the new songs of EGO: "Tears on your cheeks" and "Don't speak".
"There are many more tracks that are in the process of being finalized. So far, even the names of these projects have not been invented. But I can't wait to release them! I am sure they will find their place in the hearts of my listeners. It sounds self-confident, but it's true, "the performer says with a smile.
Lyrics of song EGO "Ce la vie"
Friday night, go for a walk
I am nobody to you to forbid
You walk, I will be lost too
Again ...
Outside the window, the night will take you
We live our lives, but we can't
How much is your love worth?
Your empty promises
You are a big girl
Like, you know everything
You don't care about anything
If only the tanks don't float
Pot-bellied old devil
Will pick you up in the evening
Forget about me
I have nothing to buy you with
You me, you me, you me, don't call me, don't call me
Don't call at night
Don't ask, screaming for love
All that was with you
It's a wild pain
I am wounded, I am wounded
Letting go fly
We are not on our way
Bye
I remember writing "Call back when convenient"
But in response, silence and, bitch, it hurt my heart
The tube flew into the wall, more often without delay
The mind sent you, but the heart seeks excuses
She apparently did not see, will call back
Or apparently offended and angry again
Found a thousand reasons and even worse
To not believe in the one where you didn't need me
But now I'm different
I'm not that kid
From the area that I met you
No money, clothes, cars
But now I'm different
Where is your favorite daddy?
Take a walk, enjoy it ce la vie
No other way
You me, you me, you me, don't call me, don't call me
Don't call at night
Don't ask for love
All that was with you
It's a wild pain
I am wounded, I am wounded
Letting go fly
We are not on our way
Bye
You me, you me, you me, don't call me
Nothing between you and me - ce la vie
This is for you