Composition "Don't Cry", according to the author and performer EGO @ music.ego, shows his present and speaks for itself. In style, it resembles the artist's early tracks, but one thing remains the same - the sincerity with which the EGO shares with the audience important experiences and thoughts for him ...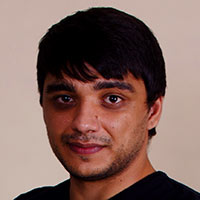 "The single, as always, is personal. I can't listen to songs about naked heifers, clubs, parties, I can't stand meaningless texts, empty artists, more like clowns who are ready for anything to entertain the crowd.
With this track I decided to return to my origins for three minutes. He is the radically opposite of everything I don't like. In this song I am real, and I want to stay that way for my listeners, no matter what, "the performer comments.
The track "Don't cry" is already available on the largest digital platforms and on our website.
Listen and download the EGO song "Don't Cry"
The text of the song EGO "You do not cry"
You don't cry
Don't call me
I'm not yours
And you are not mine
Fly away you are free
Fly away the bird is free
You don't cry
Don't call me
I'm not yours
And you are not mine
Fly away you are free
Fly away the bird is free
You don't cry
Once it seemed that we were forever
And that's enough
I'm your damn fanatic, but next to another
And you in a white dress
Lowered her eyes but i see
I know what you're silent about
And you will not say
Not dreaming about it, though
And with him what do you dream
Again words about nothing
They rarely saved us
Though reconciled
Everything is clear without words, they became empty
And so it will be henceforth
I wanted to come hug you tight
Say sorry baby seriously
I wanted but could not
And it's too late now
You don't cry
Don't call me
I'm not yours
And you are not mine
Fly away you are free
Fly away the bird is free
You don't cry
We should not be sorry
We ourselves are to blame
Now there is as it is
You there and i here
Instead of us only vows
I'm trying to be assembled like a robot
Bolts cogs only
To not hear your whisper
I will tear my soul to heal for a long time
How are you without me
What are you thinking
What do you want next to another
How are you without me?
And I'm not alone
In fact, let everything go by
I would like to say that I know everything
In a year or two, the pain will go away
I would say promise
But love they say won't die
You don't cry
Don't call me
I'm not yours
And you are not mine
Fly away you are free
Fly away the bird is free
You don't cry