A new product from EGO appeared on digital display windows - a remix of the track "Don't Cry"
A new version of the composition was made for the artist by the talented musician Mamikon Vardapetyan @mamikon_music.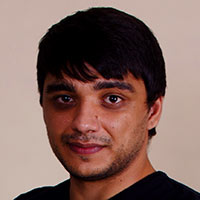 "We did not try to radically change the song, but at the same time added rhythm and a peculiar swing," explains EGO @ music.ego- This is a composition about sad and present, therefore, even after genre changes, it remained as deep and full of emotions. Maybe the majority will not take the track with the same thrill as the original, but we are sure that there will be people who will appreciate the delicate work done with the same love and attention as the original, slow version.
We wish you all good health and health in the difficult days, and we promise to delight and support you with our creativity! "
The text of the song EGO "You do not cry"
You don't cry
Don't call me
I'm not yours
And you are not mine
Fly away you are free
Fly away the bird is free
You don't cry
Don't call me
I'm not yours
And you are not mine
Fly away you are free
Fly away the bird is free
You don't cry
Once it seemed that we were forever
And that's enough
I'm your damn fanatic, but next to another
And you in a white dress
Lowered her eyes but i see
I know what you're silent about
And you will not say
Not dreaming, really
And with him what do you dream
Again words about nothing
They rarely saved us
Though reconciled
Everything is clear without words, they became empty
And so it will be henceforth
I wanted to come hug you tight
Say sorry baby seriously
I wanted but could not
And it's too late now
You don't cry
Don't call me
I'm not yours
And you are not mine
Fly away you are free
Fly away the bird is free
You don't cry
We should not be sorry
We ourselves are to blame
Now there is as it is
You there and i here
Instead of us only vows
I'm trying to be assembled like a robot
Bolts cogs only
To not hear your whisper
I will tear my soul to heal for a long time
How are you without me
What are you thinking
What do you want next to another
How are you without me?
And I'm not alone
In fact, let everything go by
I would like to say that I know everything
In a year or two, the pain will go away
I would say promise
But love they say won't die
You don't cry
Don't call me
I'm not yours
And you are not mine
Fly away you are free
Fly away the bird is free
You don't cry