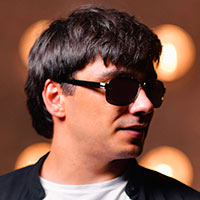 Name: EGO (Margarian Edgar Araikovich)
Date of Birth: July 6 1988 city
Place of Birth: Armenia
Education: higher (RAU)
Musical education: no
Start a music career: November 2014, XNUMX
Albums: "Not with me"
Life motto: "With God!"
EGO: "Music for me is a world in which I can be myself, open and mine for everyone without exception."
Edgar Margaryan was born on July 6, 1988 in Armenia. Subsequently, he moved with his family to Rostov-on-Don, where he went to first grade.
Craving for creativity manifested itself in the boy from childhood. When he was in second grade, he wrote his first poem. This is how it all began - the older he got, the more he became affirmed in the thought that he wanted to become a performer in the future.
At the age of 16, he recorded his first song and since then has been deeply involved in music. In 2007, EGO took part in the musical project "All-People's Star", where he reached the semifinals. It was a great experience and a new step on the way to your dream.
The young performer wrote a lot, and shared his work with subscribers on social networks. Over time, his compositions began to gain immense popularity, expanding the circle of listeners throughout the country every day.
In 2010, the artist gave his first solo concert in Armenia, a crowd of fans happily greeted him in a nightclub in Yerevan. This event was televised, which further increased the popularity of EGO.
In 2012, he took part in the Bravo Armenia competition, where he won first place and received the Audience Award.
All songs EGO writes himself, devoting them to personal experiences, emotions, often sharing with the public stories of his personal life. Surely, largely due to this, people love his compositions so much, noting sincerity and honesty in them. The artist himself always emphasizes that he is not focused on fashion and works only on those projects that are interesting to him. His repertoire includes singles recorded in the style of rap (hip-hop), as well as reggaeton, pop, club and chanson.
EGO's first album was released in 2016. "Not with me" included 17 compositions.
And in 2017, the artist presented his second album - "At the helm", in support of which he conducted a large concert tour across the country.
In the same year, EGO, together with Zvuk-M, released two more EPs:
"Fierce high"
and "Fierce buzz. Part 2"
2018 turned out to be very fruitful as well. One by one the singles were released, which brought EGO a great success: "You are with the other", "Your scoundrel", "She is a bomb", "Give, give", "Du, Du, Du", a remix of the song "Tricky" and the hit "Forget the Bully".
This year was also marked by the artist's birth of a daughter, whom he simply adores. EGO dedicated the song "Daddy's docha" to her.
2019 also brought the artist's fans a lot of new compositions. There were such singles as: "My hooligan", "Call", Wildly wild, "Balagan", "Ay". A video was also filmed for the latter - the artist's first music video:
In 2020 EGO presented tracks "I am her tramp", "Don't you cry", "This night", "Press to stop" and others.
Clips were also released:
"Night over the city":
"Do not be silent":
Now the performer continues to write and release new tracks, perform at music venues and share his emotions in new songs.
As for personal life, the artist is happily married, together with his wife, they are raising a daughter and a son.