Enrasta, a popular hip-hop artist from Cherkessk, has released a third album - "One in a Million"!
For listening and downloading it is already available on all major music services, including: iTunes, Google play, Apple music, Beeline Music, Yandex.Music, as well as in the BOOM application (for users of social networks Vkontakte and Odnoklassniki).
Listen and download the Enrasta album "One in a Million"
Work on the album "One in a Million" took three months
In the past three months Enrasta he worked on his third album, occasionally teasing fans with video announcements of fresh tracks, each of which is copyright.
As a result, the track list includes 6 tracks, most of which are about love.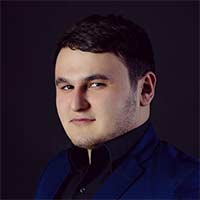 "There are only new items in the new album! The preparation time for these songs fell on a crucial moment in my work, when I divided the repertoire into two directions: Caucasian music and hip-hop. I collected all my notes for rap songs and began to refine them, choosing only the best. All this was inspired by my listeners. They just didn't give me peace! They constantly wrote and asked when the premiere was, motivated and inspired me, "comments the artist.
Therefore, the new album, released with the support of the music publishing company "Zvuk-M", according to the artist, was born precisely because of his fans:
"Thanks to the listeners! Without you, nothing would have happened. You are the best, and I am grateful to everyone together and to each individually. I wish you peace and good! "