David Divad: "With this song I confess my love for Yerevan ..."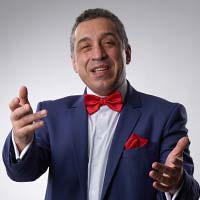 "A year ago I first visited Armenia," says the author and performer, "and visited Yerevan. The beauty of the ancient city, the hospitality of these highly cultured people and, of course, the call of the blood inspired me to write a composition dedicated to this city.
With this song, I confess my love for Yerevan! In general, everyone who has ever been here will definitely want to return. After all, as soon as you leave the airport, you immediately fall into the atmosphere of friendly sincere love. They immediately surround you with care, charge you with good energy, your heart is filled with joy and you want to dance right away!
All this is close to me, because the Armenian blood also flows in me. In my heart there is a big piece given to Armenia. I have many friends of Armenians with whom we often meet both in Moscow and generally around the world. My Armenian comrades and relatives are always looking forward to the release of songs dedicated to their great people, their beautiful homeland. Therefore, I present this track with great pleasure. "
The single "I'm flying to Yerevan" is available for listening on all the largest digital platforms and on our website.
Listen and download Davida Divada's song "Fly Away to Yerevan"
Lyrics of Davida Divada "Fly Away to Yerevan"
No kinder and brighter, no dearer in the world
Than the land we've known since childhood
There are the covenants of the fathers, there is the love of mothers
Our strength and our inheritance
There are the smiles of children and the breath of centuries
In friendship, go around in time
And the peaks of whiteness with the gray hair of the elderly
Forever young, echo each other
I wandered a lot around the world, lived in foreign lands
Walked, flew a rocket, sailed on ships
But in life, like on rails, racing faster
He knew that somewhere the heart of my motherland beats
I don't want to go to Paris and to Nice. No longer call
Neither overseas capitals nor peace
And let someone tease the warm ocean
I'll arrange a holiday for myself: I'm going to Yerevan
And let someone tease the warm ocean
I'll arrange a holiday for myself: I'm going to Yerevan
If the heart wanted to beat more fun
And a desire to sing friends
Reset the old grudge and forget the year
My road to Yerevan: I'm flying there
Reset the old grudge and forget the year
My road to Yerevan: I'm flying there
Forget about work, spit at rest
And in the taxi to the airport I fly an arrow
Give me a ticket soon, jana: where is my plane?
How to where? To Yerevan: Yerevan is calling
Give me a ticket soon, jana: where is my plane?
How to where? To Yerevan: Yerevan is calling
Like a horseman, my heart beats
I fly and the song pours, breathes easily
Full of joy without edge like gray-haired Sevan
I'm flying, I'm flying. Hello Yerevan
Full of joy without edge like gray-haired Sevan
I'm flying, I'm flying. Hello Yerevan