"We see the goal and not a step back!" - the motto of the strong in spirit, which formed the basis of the duet track Farzani @yunusfarzani and marseille @marsel_official_kz - "Face to face"! Today, the novelty appeared on the windows of all music stores.
The text for the single was written by Farzani. According to him, he had long wanted to make a joint project with Marcel, and the theme of the composition dedicated to sports and achieving goals and victories was perfect for this.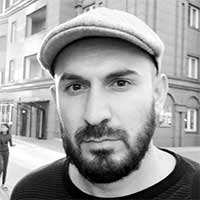 "It is an honor for me to work with Marcel, I really respect him as a musician, he is gorgeous! I think that in Kazakhstan this is one of the top artists, which is absolutely deserved, because he makes very cool music! Marcel has a very high taste, in my opinion.
I burned with the idea of ​​making a duet track with him for a long time, but not about love, but something exactly that - patriotic, about sports. I myself was engaged in boxing and my brothers in sports are still. Senior, for example, lives in Los Angeles and is famous as a professional boxer for about 15 years. I dedicated this song to him too. Therefore, the track "Face to Face" for me is very important. And today my emotions are awesome!
We have been preparing for the premiere for 8 months, and I hid from Marcel that she is today. So it will be a surprise! In the future, we will definitely shoot a clip for this composition. So far, such plans, "said Farzani.
Listen and download the single on our website and on music services!
Listen and download Farzani and Marcel's face-to-face song
Lyrics by Farzani and Marcel "Face to Face"
Fear adds excitement
We do not look away
We see the goal and not a step back
We're not here for hundreds of carat pants
Brave heart, my flag is above my head
Life, life, everyone has their own roles
Cold calculation, willpower
Someone on bets prowls, drags his share
But all that earned - earned blood and then
Face to face - faster than shadow
Face to face and not a bit of doubt
Face to face - to everyone with respect
Face to face - the enemy in the reflection
Face to face - not a bit of doubt
Face to face - to everyone with respect
Face to face - the enemy in the reflection
Face to face but I'm faster than a shadow
Be against the tide
In pursuit of the shadow
Hand to heaven
Stars shine for us
The sky gives a chance
Let the revenge
Proudly carry your flag
Carry your flag
Hand to heaven, oh
Hand to heaven
Hands, bandages
In the headphones bits
Rats were running
I burned bridges
Look colder than winter
Fists in the blood
This is just the start.
Fight ahead
Step, fortune, nerves of string
Gong and corner, hear my pulse
Early in the morning, cold, pipes
The city is rude, hunger suppresses
But I won't surrender the battle
Think with your head
Be water
Combat rod
And let zero in your pocket
But I won't surrender the battle
Success Password is Simple
With all his might
With all his might
But I won't surrender the battle
Are you a coward or a hero
Are you a jester or a king
Decide on the path
I will not give up the fight
Are you a coward or a hero
Are you a jester or a king
Decide on the path
I will not give up the fight
Face to face - faster than shadow
Face to face and not a bit of doubt
Face to face - to everyone with respect
Face to face - the enemy in the reflection
Face to face - not a bit of doubt
Face to face - to everyone with respect
Face to face - the enemy in the reflection
Face to face but I'm faster than a shadow
Be against the tide
In pursuit of the shadow
Hand to heaven
Stars shine for us
The sky gives a chance
Let the revenge
Proudly carry your flag
Carry your flag
Hand to heaven, oh
Hand to heaven