This autumn, a huge event awaits fans of Caucasian pop music - the first in the Caucasus musical and theatrical show called "FREEDOM"!
The project was organized by the companies "ETHNIK" and "TLEBZU-RECORDS" in the framework of the international festival of folk art "Adygsky folklore".
The idea of ​​creating this show belongs to Aslan Tlebz, who is the author of the project. According to his idea, choreographic and theatrical performances will replace each other non-stop, and they will be performed by both professional and amateur groups. They prepared special productions, which, seamlessly flowing one into another, will create a single composition of the performance. In total, about 120 people are involved in the show.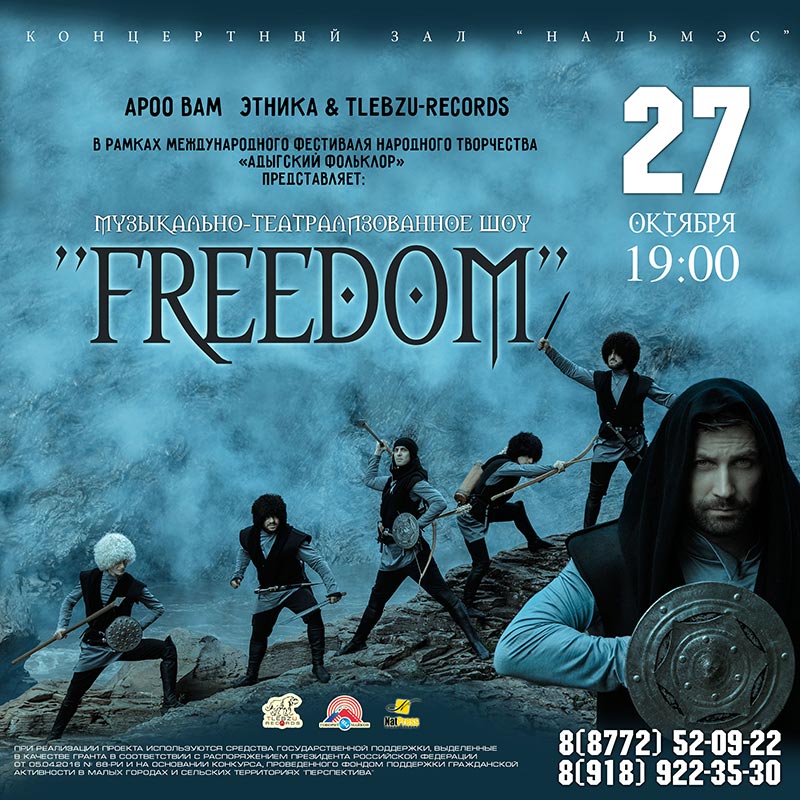 A fairy tale unfolds before the audience, telling about the life of the Adyghe people.
All kinds of musical expression will be used here: author's instrumental music, vocals, choreographic and theatrical performances, as well as poetry. All this is brightly decorated with sound and light special effects and stunning scenery.
Soloists of the "FREEDOM" show: Aslan Tlebzu, Tatyana Tretyak, Zara Tsisheva, Zaur Nagoya, Anzor Uvizhev and Madin Stash. Also participating in the festival program are the Caucasian Dance Ensemble "ABREKI", the Creative Association "OSHAD", the Caucasian Dance School "NART", the Folklore Group "HATTI", the Children's Ensemble of the Adyg Dance "ZERDAH", the People's Ensemble "ASHEMEZ", the Show Ballet " EMPIRE "and others.
PROJECT VIDEO
The project was implemented with state support funds allocated as a grant in accordance with the decree of the President of the Russian Federation No. 05.04.2016-XR from 68 and on the basis of a competition held by the Perspective Civic Activity Support Fund in small cities and rural areas.
The show will be held on October 27 in Maykop, in the NALMES concert hall in 19.00.