A dynamic composition called "Where is she?" presented Zagir Satyrov
This is a romantic song, which, according to the performer, will especially appeal to those who are still in search of their soul mate.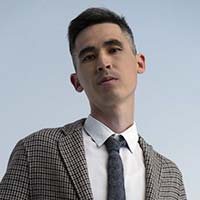 "This track is a collection of memories from my past," comments Zagir, in the studio, there are many unfinished projects in the rough versions of the recordings. Somewhere just melodies without words, somewhere an arrangement with a melody without a verse, and so on. But each of them has its own time. And today I share with the listeners the emotions I experienced during the creation of the track "Where is she?"
I found my love a long time ago, and for those who have not yet met their fate, I want to wish them to find this happiness as soon as possible! "
Lyrics of Zagira Satyrov's song "Where is she?"
Where are you, I'm looking for you again and again
Happiness, give me love
Where are you looking for you I will not find
Oh ooh, I can't live without love
Where is mine, well where is she
My happiness that is given by fate
Tell me where to look for that love
My happiness, where can I find you
Where is mine, well where is she
My happiness that is given by fate
Tell me where to look for that love
My happiness, where can I find you
You are mine - you are a joyful light of love
Baby, give me your answer
I believe I will be with you
I know you will love me
Where is mine, well, where is she
My happiness that is given by fate
Tell me where to look for that love
My happiness, where can I find you
Where is mine, well, where is she
My happiness that is given by fate
Tell me where to look for that love
My happiness, where can I find you
Where is mine, well, where is she
My happiness that is given by fate
Tell me where to look for that love
My happiness, where can I find you
Where is mine, well, where is she
My happiness that is given by fate
Tell me where to look for that love
My happiness, where can I find you