Introducing the new duet track - song "Watch" performed by George Gaziyan @george_gaziyan and Svetlana Berezhnoy @_svetlana_berezhnaya. The author of the composition is Arzu Asadulayev.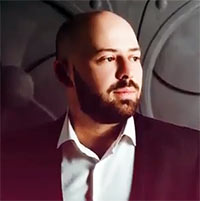 "This is our first joint composition with Svetlana," says the performer, "and we worked well together. The result was such a kind, good positive song, which we are pleased to present today.
I would like to wish everyone a pleasant listening experience. We are sure that this is not the last duet with which we will delight our listeners! "
The musical novelty "Watch" is already available on the largest digital music platforms and on our website.
Listen and download the song "Watch" by George Gaziziyan and Svetlana Berezhnaya
Lyrics of George Gaziziyan and Svetlana Berezhnaya "Watch"
We ran into random looks
This is fate, this is fate
Drown in my love frantically
For you my world and words of love
You just hold me tight
And find out how I love you
Watch, watch ticking
And the winds about love sing to us
Don't regret about anything
And drink my love to the bottom
Watch, watch ticking
And the winds about love sing to us
Don't regret about anything
And drink my love to the bottom
Million dawns I'll meet you
Just call, just call
And its one and only affectionate
Gently call, gently call
You just hold me tight
And find out how I love you
Watch, watch ticking
And the winds about love sing to us
Don't regret about anything
And drink my love to the bottom
Watch, watch ticking
And the winds about love sing to us
Don't regret about anything
Just you to the bottom, drink my love
Watch, watch ticking
And the winds about love sing to us
Don't regret about anything
And drink my love to the bottom
Watch, watch ticking
And the winds about love sing to us
Don't regret about anything