Caucasian pop star Ramazan Kaytmesov @ramazankaitmesov presented a new track - "Walk, beautiful", to the words of Aslan Borsov.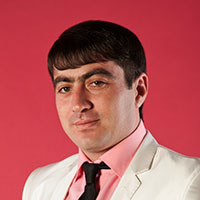 "In the Caucasus, even songs about unrequited love sound optimistic, fun. So the hero of this composition, talking about his feelings, hopes that his beloved will submit and fall in love with him. I hope that this song will cause the kindest feedback from the public and give everyone a good mood! " - wishes Ramadan.
Listen to the single "Walk, Beautiful" on digital platforms and on our website.
Lyrics of Ramazan Kaitmesov's song "Walk, beautiful"
We will be with you
And the sky and the moon
Let the lights burn
Like the stars above the earth
Blood flows from the soul
Like first love
And do not forget you
My lovely
Walk beautiful
There is only you alone
Shoot eyes
And you drive me crazy
Play feelings
And the heart is not sparing
Do not be angry about your fate
You love me
Do not hide my feelings for you
My beautiful
Ready to hit the road
To you across the seas
May life be filled
Hope sails
You only know that I
Only loved you
Walk beautiful
There is only you alone
Shoot eyes
And you drive me crazy
Play feelings
And the heart is not sparing
Do not be angry about your fate
You love me