Today, a charming Ossetian singer celebrates her birthday Ilona Kesaeva
The artists schedule often gives them surprises, and it happens that you don't have time to mark important dates at work. But for Ilona, ​​this day is very important, and she always tries to meet him with love among friends: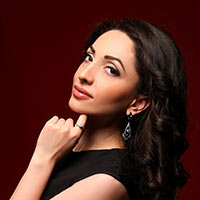 "This holiday means a lot to me: I am glad that my parents and God gave me life, I am glad that I am in the world, that I am healthy and happy! I love to celebrate my birthday! Despite any signs or employment, "Ilona says with a smile," they began to congratulate me from midnight. My friends and girlfriends arrived, my little sisters, who congratulated me with cake, flowers and champagne, my brother came too. In general, we sat with a cheerful company for a couple of hours, it was very cool! "
This year singer married, and therefore his birthday for the first time marks as a wife:
"Meet the holiday in my new family. In the circle of loved ones, relatives and friends. Once again I want to say thank you to all for the congratulations and kind words! It's always joyful to realize how much you are loved, and this day is especially! ", Says the artist.
We join all the congratulations that are addressed to Ilona today, we wish her family happiness, new creative success, love and well-being!
And we offer the fans of the singer to spend this day under the songs of the beloved performer, and we remind you that they are available for listening and downloading on all digital platforms!