A new lyrical composition from Islam Jambekov - "Heaven"
This is an author's song, which the artist created, inspired by the beauty of St. Petersburg ...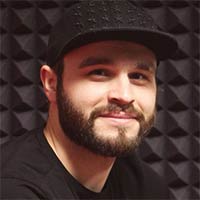 "This is no longer an ordinary love story, but a love story in a big city, where there is such a beautiful phenomenon - white nights. Wherever he is, she and the architecture of the beautiful city of drawbridges, and all events are focused on the protagonist and his emotional sensual transfer of the picture of the heroine's beauty and memories of the events that happened to them in St. Petersburg, with its indescribable energy and beauty.
This plot itself was drawn in my mind, inspiration came, and the idea of ​​a story of two loving hearts was born.
I am pleased to present my new single to the audience and I want to wish everyone to love loved ones and appreciate the time spent with them, "says the artist.
Listen to the track "Heaven" by Islam Dzhambekov on digital platforms and on our website.
Lyrics of Islam Dzhambekov's song "Heaven"
These beautiful white nights
And the scent of your delicate hair
In a letter I will see your familiar handwriting
These gifts to you in the form of roses
Well, as much as you can from edge to edge
I studied the curves of your lips
You don't understand the seriousness of your feelings
Whisper to me again - you're just my friend
Heaven, sky white clouds
I didn't know, I didn't know that I loved you
Heaven in heaven white clouds
I didn't know, I didn't know that I fell in love with you
I remember our last evening
You only talked about love
I hugged your shoulders softly
You drove my blood again
The sound of the surf whispers your name to me
I paint you again in my dreams
Can't describe you to me in the picture
My love is only in your hands
Heaven, sky white clouds
I didn't know, I didn't know that I loved you
Heaven, sky white clouds
I didn't know, I didn't know that I fell in love with you