A new author's track has been released Islam Jambekov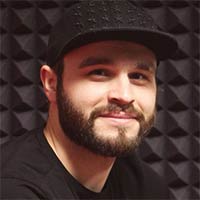 "This song was written in the RR PROJECT STUDIO, under the direct supervision of my faithful friend and fellow musician - Ruslan Abdokov. Many thanks to him for the work done and the sensible approach to his work!
In moments of inspiration, every minute is important, so we took full advantage of that time: in just 20 minutes I came up with a text and a motive, which ultimately resulted in an excellent composition. I hope many of my listeners will like it! I wish everyone peace, kindness, love and prosperity. Appreciate each other, "says Islam.
The Sing and Fly single is already available on streaming sites and on our website.
The lyrics of Islam Dzhambekov's song "Sing and Fly"
Sing and fly, sing and fly
Sing and dream, sing and dream
Sing and fly, sing and fly
Just don't forget love
Sing and fly, sing and fly
Sing and dream, sing and dream
Sing and fly, sing and fly
Time erases all my verses again
You weren't enough. You listen to this
Soul suddenly broke in search of an answer
This song is about you
I know the minutes fly by
Living without you is so unbearable
You told me your stories
And I wrote these verses like a fool
Sing and fly, sing and fly
Sing and dream, sing and dream
Sing and fly, sing and fly
Just don't forget love
Sing and fly, sing and fly
Sing and dream, sing and dream
Sing and fly, sing and fly
I just wanted to share with me
This whole planet, because together we are strong
Well, tell me why you didn't love me then
You ruined all dreams
I know the minutes fly by
Living without you is so unbearable
You told me your stories
And I wrote these verses like a fool
Sing and fly, sing and fly
Sing and dream, sing and dream
Sing and fly, sing and fly
Just don't forget love
Sing and fly, sing and fly
Sing and dream, sing and dream
Sing and fly, sing and fly