Star couple Islam Malseugenova и Zulfiya Chotchaeva December turned out to be very busy. At the beginning of the month, the artists became guests of the talk show Andrey Malakhov "Hi Andrew!" on the Russia-1 TV channel, and at the end of December the duo took part in two more large-scale media events ...
On December 27, Islam and Zulfiya went live on Radio Shanson, in the program
Star breakfast. Where we talked with the presenters Anya Kaverina and Miroslav Youzhny,
told about themselves, answered the questions of radio listeners and even chose the most interesting one, for which the connoisseur of the duo's creativity will receive a gift. How did the artists meet, and how was their family born? Why do the performers have different surnames? Whose idea was it - to give new life to the song "Stop, music!"? - answers to these and other questions - on the air of the program, the video of which can already be watched on the YouTube channel Radio Chanson.
On December 28, the stay of the artists in the capital continued - they performed at New Year's corporate party Radio Chanson, in Vegas City Hall, where they performed the hit "Stop, Music!". Caucasian pop stars sang on the same stage with such performers as Mikhail Shufutinsky, Soso Pavliashvili, Alexander Ivanov, Sergei Mazaev, Sergei Trofimov, Evgeny Kemerovsky, Yaroslav Sumishevsky and Alexey Petrukhin.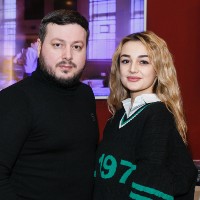 "This year is undoubtedly one of the brightest so far in our work," Islam and Zulfiya share. We want to say a big thank you to everyone who believes in us, to those who listen to us and support us every hour. And, of course, wish everyone a Happy New Year! May he become even happier and more successful for each of us! "