New from EGO - the release of the single "What a stupid"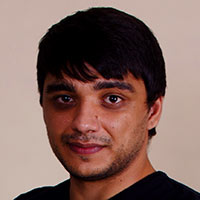 "This song came out spontaneously. My friend Marik and I were sitting in the studio and remembered a story. Based on these memories, I created a new track.
The composition is short but capacious. It was possible, of course, to write a text on four sheets, but a few lines were enough for this story - very important words, in my opinion.
The music was chosen cheerful, because the song itself is sad, but I like it when there is a contrast in the composition, when the mood of the melody and the text are different, but at the same time complement each other.
I am sure that music gurus will not appreciate this track, it is too simple and down-to-earth, but this is all its charm. Sometimes, to say "I love", you just need to say "I love" ... "
Listen to the single "What a silly one" on our website and on the largest music services.
Also EGO @ music.ego shared that soon the fans are waiting for the next new items: "We are preparing many projects in completely different genres, there will be a rainbow of songs!"
Lyrics of song EGO "What a stupid"
Smoke from cigarettes
I'm alone again
You are not near
You go with him
Will call you
You will run after
You sleep sweetly with him
Wither under the window
Hundreds of my roses
Yes, not a million
But I carried them to you
Summer in the yard
Full moon
You go drunk alone
Who told you
That there is no love in the world
Look in your eyes
Straight into my eyes
Repeat again
How stupid you are
What a stupid
One, two, three, four, five
I will not go looking for you
Played hide and seek and now
My door is closed
Wither under the window
Hundreds of my roses
Not a million
But I carried them to you
Summer in the yard
Full moon
You go drunk alone
Well, who told you
That there is no love in the world
Look in your eyes
Straight into my eyes
Repeat again
How stupid you are
What a stupid
Who told you
That there is no love in the world
Look in your eyes
Straight into my eyes
I loved you
.Бил