The video "Over Horizon" was released for the song Karen ACE and TEENA
This is the first duet project performers. The lyrics are written by Karen. He says that inspiration overtook him one night when the arranger sent him the melody of a future song: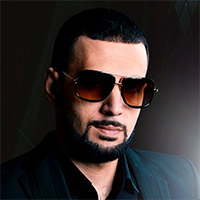 "The first words of the composition perfectly describe that situation:" I'm not alone, the motive is monotonously playing. Music enslaved, I wrote a verse with me ... ". A night for creative people is a special time when you can retire alone with your thoughts, move away from the whole world and create your own little world in verse. That is exactly what I did. As for the story that I "recreated," many men have a stony heart, but one that gives the opportunity to love appears. I want to say only one thing - if you ever find wings behind your back, then before you is exactly the one that will activate this "mechanism", and you will fly! Whatever the obstacles, whatever the obstacle is, everything is decided! "Says Karen.
Listen and download the song Karen TUZ and TEENA "Over Horizon"
Having written the song, Karen decided to perform it in a duet with the singer TEENA, previously known as Christina Arshakuni. The composition turned out so soulful that they did not stop there and filmed a video in Moscow directed by Naymada OZI (YOU SEE MEDIA).
"In the story, the main character is very bored and remembers his beloved, despite the fact that no matter how strong and proud he is. Memories appear in his head, plots scroll. In each word, he conveys his emotions. And in the end, she, too, is no longer able to restrain her feelings, and finally returns to him. After all, while we are alive, everything can be solved, and "... even the Arctic Ocean will melt from love ...".