Meet the new lyric track Temirkana Koshiev @temirkosh и Mariyany Saralp @maryana_saralp_ "Laegunungyem and makame" ("Melody of Love")!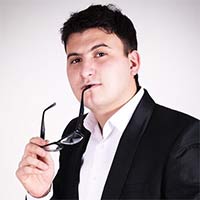 "The song is about love. More precisely, about a melody that unites the hearts of two creative people. The author of the composition is the talented Zamira Zhaboeva, who literally literally described our relationship - the relationship of a singer and a dancer, who were united by the melody of love. Hearing it, we immediately realized that it was our song! And she is very close to us.
We wish everyone a pleasant listening. We hope that the composition will be close to many loving couples! Believe in yourself, in your relationship. Love each other no matter what. And happy holiday to you! Happy Valentine's Day! "- says the performer.
Listen and download the song "Laegunyung and makame"
Lyrics of "Laegunyung and makame"
Maby and Kafef1e Daham
Si Gur zyk1e esche1yr mahe
Ner teplisem-kyskhutemykh
Myr Wered zh1ak1ue guash1esh
Huede shchi1er mash1esh
Dyze1usch1am - zheim semyzegyzht
Laungungyem and makamer
Zhuzhu zahethash
Laungungyem and makamam
Dyzy1epishashch
Laungungyem and makamer
Di gum food1uk1
Guk1i, psek1i dykizdofe
Laungungye UJ
Pschig leedakem mak ebgyesh1u
Wie zek1uek1emk1em pser highesh1u
Syp1k1elyplypleure zamanyr k1ouash
Se cue sch1aue sch1at gulyute
Brzezma1efu sihut uk1ytem
Iji gashash
Laungungyem and makamer
Zhuzhu zahethash
Laungungyem and makamam
Dyzy1epishashch
Laungungyem and makamer
Di gum food1uk1
Guk1i, psek1i dykizdofe
Laungungye UJ
Laungungyem and makamer
Zhuzhu zahethash
Laungungyem and makamam
Dyzy1epishashch
Laungungyem and makamer
Di gum food1uk1
Guk1i, psek1i dykizdofe
Laungungye UJ
Guk1i, psek1i dykizdofe
Laungungye UJ