An oriental tale of love shown in the video "Look" Zumrud Musieva, won the hearts of fans of the singer's creativity
The number of views of the video filmed in the Sarykum desert by the director Rasul Gitinaevgrowing every day. Today this figure has exceeded 3000000.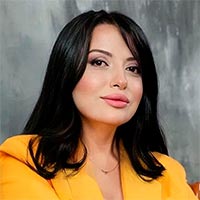 "I am extremely pleased to see such results! I'm just in a slight euphoria, - the artist shared, - albeit small, but for me it is a victory and success. I am very glad that viewers like this video and song so much. I want to say thank you very much "Zvuk-M" for support and assistance in promotion, in particular - to the director of the publishing house, Mikhail Yugov, as a person and a great professional. He will always hear, support, give the necessary advice. When we first discussed this composition, we assumed that people would like it, but that in 5 months there will be such a result, even we did not expect!
I thank my viewers for this recognition. Listen to "Zvuk-M", listen to me. There are still many cool projects ahead! "
The singer also said that she was preparing another novelty for the release. It will be a song called "Our April", and soon the public will be able to get to know it.