Track release released Kristina Yesayan @official_esayan_kristina1989 and Ilya Sagliani "I am with you" (Remix).
For the first time, fans of the singer's work heard the original version of this song in 2017, and now, after a couple of years, the singer decided to give the track a new life, recording it in a duet with hip-hop artist Ilya Sagliani.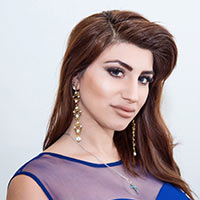 "At the numerous requests of the audience, I decided to remix, and initially he was conceived as a solo - as in the original version. But later I realized that it would be nice to add a guy's voice. After all, in all my songs I show girls how to love, but guys should not relax.
I came to Ilya Sagliani by accident - I heard his covers, I liked the presentation, and how he emotionally performed them. I proposed to record a duet, Ilya not only did not refuse, but wrote the text myself, since I did not want to write with my presentation and thoughts, I thought it would be better if the guy in the song shows his emotions. This is how a new hit appeared. I think through it we will convey to the listeners the whole essence of pure, faithful and faithful love. I'm sure that the composition will enter the hearts of the audience, and the bride and groom will begin to perform it, as well as the song "I'm With You," at weddings! " - commented Christine.
Listen and download the song "I Am With You" by Kristina Yesayan and Ilya Sagliani
Lyrics of Kristina Yesayan and Ilya Sagliani "I am with you"
The wind is noisy, the wind is singing
The sky without birds, believe me, does not live
He, like me, "I want to be with you"
Together we are bound by one fate
The knot of love who tied us
In the darkness of night I did not let fear
Love has given us hundreds of years
You are my only ticket in happiness
I am your sunset, and you are my sunrise!
We are one, and so we are lucky!
I tear to pieces my heart
The trouble is gone, the whole world is cut in half
We have created paradise for two
Will be together forever, you know
I will not let go and I will not give
In sorrow and in joy together, we know
y y y y y y
I will be with you forever!
The color of your eyes is so sweet to my heart
Remember the words you said
"Eternity, love will be in the hearts
When you are with me I don't feel fear
You are like a delicate flower to me
I will not betray, and how could I
Lose you, in the soul does not recognize ?!
I better not find you!
Do not leave and always know it
What if you leave, there will be a damned paradise!
Do not let go of my hand
Hold me tight, I know with you
Years will pass, times will pass
Everyone will turn away, but I will never!
I'll stand by your side
Tightly, so gently hug you!
y y y y y y
I will be with you forever!
I will not betray, I will not give
I am behind you, you yourself know!
I'm not afraid of all the difficulties, blizzard
I won't turn my back and never leave!
Will you be poor or rich
Heart, soul I will be glad for you
In sorrow I will stand with you
Your soul in the cold to warm
Understand that money is not important in life
If only they loved with all my heart
And everyone was valued forever,
Never exchanging friends for grandmothers and warming others.
Love must be honest, the soul does not look
Then you will get mutual knowing
And in the heart, warmed then you will understand
That there is no worse truth than a sweet lie
Do not describe in words
You are so Beautiful
And birds fly over the sea blue
I could draw your name in the sky
You are the best in the world
Of course, I'm often wrong
Our relationship is boiling
I rewind the tape
Our first meeting
And opposite your eyes
We are completely different
Like air and water
I never rushed in big words
Well, for now, your smile makes me happy
We will not fall asleep as usual until morning
And even if there is a thunderstorm outside the window
And even if I'm not around
You know exactly forever
I will never forget you
y y y y y y
I will be with you forever!
y y y y y y
My soul flies to you "