"Everything is bought and sold. And life sometimes laughs at us ... ", - Kristina Yesayan @esayankristina_ and RIPSI in a joint track urge you to think about the fact that you can't destroy other people's fates for your own benefit. About how the song "The Lord said" was born, and how the duet was formed, Christina said on the day of the premiere: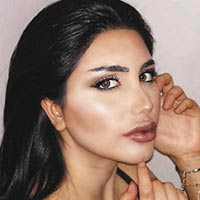 "I wrote this composition a year ago, but decided to release it right now. Everywhere pretentious tracks about drugs, prostitution, and money ... Tired of listening! Often my audience asks for a single on a similar topic, but I refuse, because I think much deeper in advance. Today's youth, listening to songs about cigarettes, clubs and festivities, consider these stories an example, thinking that it is fashionable to live like this! I don't want to give a negative example to young people. I do not want my listener to do bad things while listening to such topics. I want the guys to understand the essence of life by listening to our music! In this reasoning, we are in solidarity with RIPSI - that besides money, hookahs, clubs and cars, there is another side of life. And you need to appreciate her, be a good person.
This is our first duet with her. Everything went very smoothly! The girl is positive, dances well and sings great! In the process, no quarrels and disputes arose. RIPSI is well-mannered and very discreet, which I really liked. I am amazed at the artists who tear each other's throats in creating duets. We are doing well, I completely trusted her, and she trusted me, and I am very glad that RIPSI has contributed a part of itself to this track. "
You can already listen to the song "The Lord said" on all digital platforms and on our website.
Listen and download the song of Christina Yesayan and RIPSI "The Lord Said"
Lyrics of Christina Yesayan and RIPSI "The Lord Said"
I want to start from scratch
Life is unbearable
I do not judge others, I look at myself
This is my strength
Sometimes we scream
But we understand that in vain
It is not tolerant
And respecting others
know respect you
That's how it used to be
Now judge appearance
Judge our actions
On clothes meet
I accompany in the purchase
What have you done to yourself
He became a slave in actions
You write everyone a comment
Without thinking as if
Everything is bought and sold
And life itself sometimes
laughing at us
We are not fit we are indignant
But we sell and buy.
Life happens sometimes
Very tolerant
We suffered so much
And now it's like ice floes
Iceberg ruined everything
Life and our desires
You wrote negative
Understanding your minus
You think brother
You think sister
In life, God love
All equal
Learn to respect
Learn to be wiser
Destroy life for others
For yourself, it's more painful
Eeee, Eeeee over the Lord said
Eeee, Eeee system, not destroy
Eeee, Eeee with the above gentlemen said
Eeee, Eeee system, not destroy
I'm not afraid to watch
enemies in the eye
I only believe in God
in the sky
Authority to me god
and it is an honor
Fearless in this life
Faith is
I'm not afraid anymore.
snake bites
There is an antidote
I will stay alive
I'm afraid of cynicism
People close to me
I'm afraid we believe them
I repent faster
over the Lord said
build, do not destroy
over the Lord said
build, do not destroy