The singer has released a mini-album "Appreciate what you have"!
In the past six months, the singer Kristina Yesayan @official_esayan_kristina1989 worked on the recording of copyright tracks - songs about relationships, love and family values. As a result, were born 5 tracks, which were collected in a single mini-album. Today, the EP, called "Appreciate what you have," saw the light!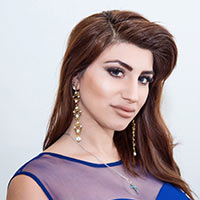 "Each of these singles is loved by me in its own way. Through them I try to convey to the audience simple truths about family values. Unfortunately, recently in general circles I often notice a deception on the part of men in relation to their wives. These actions are so frustrating that I wrote several songs about cheating and deceit, I wanted people to listen to the words and think! So that the girls understand - the one who left someone for you today, will leave you for the sake of someone tomorrow too. And I want to convey to men - you need to appreciate what you have: a wife and children. Wives give themselves to the family, devote their lives to it - give birth to children, take care of them. And in response - neglect. The husband gives free time and attention to a stranger who did nothing for him. I hope that after hearing the song "Resentment", men will understand everything. In general, I am for family and love! But for true love! " - comments Christina.
Listen and download the mini-album "Appreciate what you have"