For a long time, the famous singer Laurita did not please her fans with Russian-language compositions in the popular style @laurita_music_, and today she presented the dance single "Music Tied" written by Ruslan Reno.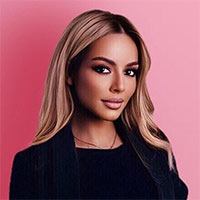 "Ruslan and I have known each other for a long time, he is a very talented author who writes songs not only to Caucasian performers, but also to well-known Russian ones, for example, the group" Artik & Asti ". Therefore, I confidently expect that this composition will be successful, - says the singer, - I myself thought for a long time in what style I would like to work now and when Ruslan came up with the idea of ​​this track, I gladly accepted it, deciding to experiment. Although, to be honest, it was difficult for me to record this song. But hard work did its job - the composition turned out to be easy, relaxed, romantic, and I really hope that everyone will like it! Thanks to the audience for the love of my work. "
In September, Laurita plans to begin filming a video for a new track. It is already known that the Rusakoff movie team will shoot it in Moscow @rusakoffmoviewho worked on the previous two clips of the singer. It is noteworthy that the role of the protagonist in the new video story will be performed by the husband of the artist.
Lyrics of Laurita's song "Music Tied"
I've been looking for you all night
I flipped through time before
When I didn't notice him with you
The heart inside melts again, I missed you
Now everything has no further meaning
And the days that fly by are just numbers
Loved you, lost you
I'm in dance today alone
The music has connected us
Fell in love dancing
Then I didn't understand
Found and lost
I've been looking for you all my life
Like you did not know
Shine with no one like that
I'm never dancing
The music has connected us
Fell in love dancing
Then I didn't understand
Found and lost
I've been looking for you all my life
Like you did not know
Shine with no one like that
I'm never dancing
I believed that I forgot you
Your eyes, how I fell in love with you
My love was inexplicable
You are not with me it is unbearable
I didn't say how much I missed you.
I looked at the moon, my heart was beating
When I found and lost you
I'm in dance today alone
The music has connected us
Fell in love dancing
Then I didn't understand
Found and lost
I've been looking for you all my life
Like you did not know
Shine with no one like that
I'm never dancing
The music has connected us
Fell in love dancing
Then I didn't understand
Found and lost
I've been looking for you all my life
Like you did not know
Shine with no one like that
I'm never dancing
The music has connected us
The music has connected us
The music has connected us