"Beautiful Brides" - this is how the name of the new composition presented today by the popular singer sounds in Armenian. Lilit @lilitofficial. This is an old folk song, which, thanks to modern processing, received a new sound without losing its originality.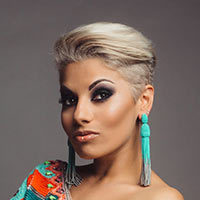 "It sings about how beautiful, well-dressed girls, dressed in the national dress of brides, go out to meet young people, trying to charm them. And it is very important for guys to choose that one, the only one, "explains LILIT.
At the moment, the singer is working on the processing and release of an album with folk compositions, giving them a new life. So soon fans will hear some more new products. In the meantime, we suggest you listen to the single "Mokac Harsner".
Listen and download the LILIT song "Mokac Harsner"
Lilit lyrics: "Mokac Harsner"
Ekan ekan mokac harsner haralo haralo
Voske telov ysvac varsel haralo haralo
kir man yshal gicac ysir haralo haralo
demker lses halylysin haralo haralo
Ekan ekan mokac harsner haralo haralo
Voske telov ysvac varsel haralo haralo
kir man yshal gicac ysir haralo haralo
demker lses haylysin haralo haralo
Ekan ekan mokac harsner haralo haralo
ynker eker, achke re ser haralo haralo
hakelen has kabelanas haralo haralo
ahelabi covori mast haralo haralo
Ekan ekan mokac harsner haralo haralo
hyrin peri, kera gyser haralo haralo
dyrsekek dyrs moka pesek haralo haralo
morkac cen tan verke tesek haralo haralo
Ekan ekan mokac harsner haralo haralo
hyrin peri, kera gyser haralo haralo
dyrsekek dyrs moka pesek haralo haralo
morkac cen tan verke tesek haralo haralo