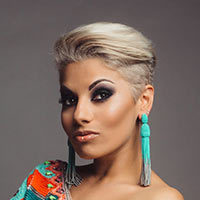 Name: LILIT (Arutyunyan Lilit Robertovna)
Date of Birth: 20 1987 of August
Place of Birth: Armenia
Education: two higher
Musical education: graduated from Sochi College of Arts, MGUKI (graduate student)
Start a music career: November 1991, XNUMX
Albums and singles: "My Dream", "Just going to dance", "Love at a distance", "Shards", "Following him."
Life motto: "Only forward, not looking back!"
LILIT: "Music for me is the best part of my soul ..."
Grigory Leps, Lyuba Uspenskaya, Mikhail Shufutinsky, Valeria, Alexander Ustyugov, Svetlana Surganova, Alexander Marshal, Dmitry Malikov and other performers took part in the concert along with the Sultan