Singer LP unveils new album "Heart to Mouth"
On December 7, 2018, the American singer LP presented her fans another disc called "Heart to Mouth". In her direct manner, the performer conveys to the audience her vision of the relationship between people on twelve tracks, the most popular of which on the first day of rental were "Dreamcatcher", "Girls Go Wild" and "Recovery".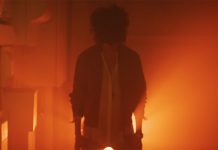 Singer LP will give a concert in Moscow 9 on April 2019 of the year. In the recent past, when LP was mentioned, no one in my head had any ...
In general, the disc came out dynamic, despite the texts, traditionally full of deaf and hopeless longing. For example:
My room is dark, the blinds are closed,
And still too much outside
Maybe it's over, but not today,
I may be older, but I'm still crying.
I can't stop sleeping in your clothes,
You can't stop making phone calls.
In general, you need to listen and form your opinion.
Video clips for songs from the album "Heart to Mouth"
You could already see two tracks from the album "Heart to Mouth" on the official YouTube channel LP: the video clip "Girls Go Wild" appeared in August, and the work for the song "Recovery" - in October 2018. We offer you to plunge into the world of positive from LP, getting to know them right now.