The shooting of the clip for a new song has ended Magomed Alikperov "It's not mine anymore."
While working on the video, the artist spent several days in Krasnodar with Petrucho Studio.
According to the singer, the track "No longer mine" is recorded in pop style, which is unusual for his repertoire, and therefore the audience will be pleasantly surprised by the new project.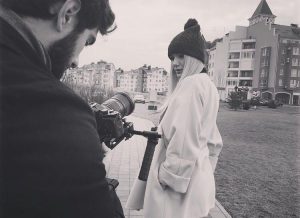 The song "Already Not Mine" will be presented along with the video: "We decided to show a fascinating story in which deep feelings, betrayal and intrigue are involved. The shooting was fun, easy, the main character (a model named Marina) did an excellent job with her role. I think the audience will be pleasantly surprised and imbued with the emotions that we tried to convey ... ", Magomed says.
A bright music video with an exciting story of love and treason, we can see in early spring.
Shooting a video for a new song by Magomed Alikperov "It's not mine anymore"
Photo on the page courtesy of "Petrucho studio"