Manuel Isakov spoke about the song "Caucasus" and the video for this song
"Forever in the heart of each of us the Caucasus!" - these lines are from the song of Manuel Isakov @manuelisakov The Caucasus, the author of the words and music for which is the well-known composer Elchin Imanov, cannot help but touch the hearts of the residents and people of the Caucasus region, who cherish the precepts of their fathers, the beauty of their native land, the culture and traditions of their ancestors, both their own and neighboring nations.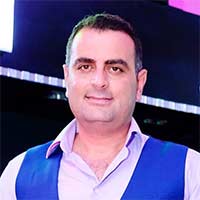 Having decided once to create a composition that will find a response in the soul of every Caucasian, the singer together with the author recorded the single "Caucasus", designed to remind the audience about the most important:
"From the very first lines in this song it is about friendship of peoples," says Manuel, "from childhood we are taught what camaraderie and nobility are, that we need to honor our parents, that bread and salt should be divided, not territory. I myself live in Israel, often perform for people from the Caucasus, both in Russia and abroad: in Europe, America, Canada and, wherever I am, I see eyes full of love for my native land, I hear the call of blood. The Caucasus is really forever! "
Arrangement for the song was made by Taleh Agayev, with whom Manuel Isakov has been working not for the first year. The video clip "Gershon" in Israel was filmed on the incendiary composition, which showed national dances and songs, noisy feasts, mouth-watering dishes of Caucasian cuisine and scenic panoramas of nature that open up to the audience from a height of rocky mountains.
"Caucasian peoples are famous for their hospitality, generosity, ability to keep their word, stand up for themselves, their family and for their homeland. There is a wish that modern youth would not forget about it, appreciate it. After all, fraternity, ancestral covenants, our traditions, customs and culture are the most important values ​​that we have been awarded since birth! "
Listen and download the song of Manuel Isakov "Caucasus"