"If you want to be happy, find someone who knows how to fly like you ..." - such a simple, but at the same time deep truth is contained in a new song Mazzakyana @mazzakyan "Alone", which the artist introduced to the general public today.
A completely original project, from poetry to arrangement, began with music and gradually took shape, turning into a pleasant, romantic track in an unusual sound, immersing listeners in a story that many people knew painfully ...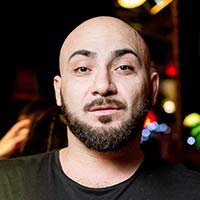 "I started work in the spring. He wrote the music first, then made the arrangement, and only then prepared the text. This is a song about today, but in a "cassette" style. It is about relationships, about the fact that everyone wants to find a loved one, but sometimes it ends just in short meetings. I just talked about how often happens in many people in life. Someone needs real strong relationships, someone needs fleeting novels, while someone doesn't need anything at all. It is unfortunate that today there is little sincerity and feelings left.
"I really hope that the listeners will like the song and appreciate it!" - says Mazzakyan.
Listen and download Mazzakyan's "Alone" song
Lyrics of Mazzakyan "Alone"
Don't call a taxi
Stay still with me
I miss heat so much
I miss love so much
Dim the light come closer to me
We first knew what drives us
Let's dissolve in these notes of love
I'm good with you monks
In private, I wanted to say so much
I just needed to understand
Can you fly the same way
High
What do you need my actions or words
That I really need you
Let's choose don't be silent
Tell me the whole truth
Alone
Inexplicably warm
In that rare oblivion moment
In the eyes burning like coals
I see your clear answer
Dim the light come closer to me
We first knew what drives us
Let's dissolve in these notes of love
I'm good with you monks
In private, I wanted to say so much
I just needed to understand
Can you fly the same way
High
What do you need my actions or words
That I really need you
Let's choose don't be silent
Tell me the whole truth
In private, I wanted to say so much
I just needed to understand
Can you fly like that
High high
What do you need my actions or words
That I really need you
Let's choose don't be silent
Tell me the whole truth
Alone
What do you need my actions or words
That I really need you very much
Let's choose don't be silent
Tell me the whole truth
Alone