Georgian band Mgzavrebi released the album "Geo"
The famous group Mgzavrebi (Wanderers) from Tbilisi delighted the fans of their work with a new disc under the symbolic name "Geo" with songs in the genre of "world music".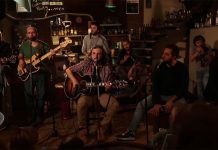 Tbilisi musical group Mgzavrebi will perform in Moscow Without exaggeration, one of the most popular groups in Georgia called "Mgzavrebi" ("Wanderers") will give two concerts on the stage of Izvestia ...
The premiere of the album "Geo" took place on November 5, 2018. We invite you to listen to it.
On November 7, 2018, the musicians also presented on their official YouTube channel a video of a live performance of the song of the same name from the Geo album.
Simultaneously, Mgzavrebi announced an upcoming tour of Russia, which is supposed to start in Yaroslavl on November 11, and end on December 13 in Perm. In Moscow, concerts are scheduled for November 15 and 16, 2018. The full tour schedule is available at the official website of Mgzavrebi.