A new song in the Caucasian style appeared in the repertoire today Murat Thagalegova - "Under the moon"
I wrote the music and lyrics to the track Artur Khasanov.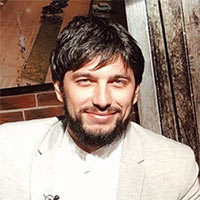 "Murat has a lot of songs of different genres, all of them are good in their own way," Arthur comments, "but we wanted to make the project more similar to his old compositions, so that the listeners would feel a little nostalgic.
"Under the Moon" is a dynamic lezginka, a song about painful things - about love that sees no obstacles, about a hot heart longing for happiness. Murat performed it with feeling, necessary emotions, and I want to believe that the audience will appreciate it. "
Lyrics of Murat Tkhagalegov's song "Under the Moon"
Clouds tried to hide the sun in the sky
How does your family hide you from me?
You can't close your heart, hide in the garden
Know I will get you, I will steal you with my heart
Under the moon I miss one day by day
You don't notice me, my friends keep telling me
To forget you dear, but I do not hear
I believe that the hour will come, you will love me
I believe that the hour will come, you will love me.
You are like guarded by your whole family
How bored me, all your brothers
At night by the fireplace I will wait for the moon
I'll throw you on a horse, I'll take you to Nalchik
Under the moon I miss one day by day
You don't notice me, my friends keep telling me
To forget you dear, but I do not hear
I believe that the hour will come, you will love me
I believe that the hour will come, you will love me
Under the moon I miss one day by day
You don't notice me, my friends keep telling me
To forget you dear, but I do not hear
I believe that the hour will come, you will love me
Under the moon I miss one day by day
You don't notice me, my friends keep telling me
To forget you dear, but I do not hear
I believe that the hour will come, you will love me
I believe that the hour will come, you will love me