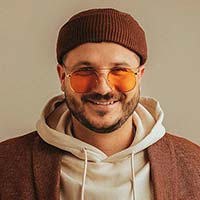 Name: MY-RO (Vladimir Bychek)
Date of Birth: November 03.04.1990, XNUMX
Place of Birth: Makhachkala Dagestan
Education: higher education
Start a music career: November 2016, XNUMX
Singles: "Dark-haired", "White-haired", "Oh yes, you are mine", "Girl"
Life motto: "Do what you love, move towards your goal, work on yourself, because a chance for success is always given to a person, just be ready for it"
Official MY-RO Social Media Pages
MYRO (Vladimir Bychek). Author, performer, composer, poet. Born on 03.04.1990/XNUMX/XNUMX in the city of Makhachkala, r. Dagestan.
In 1993 he moved to the Kuban, in the Krasnodar Territory, to the small village of Dmitrievskaya, where he spent most of his life. From early childhood, the artist sang in the Cossack choir, performed at various inter-district, international and Russian competitions.
In 2016, MY-RO moved abroad to Germany, where he began his solo
career.
MY-RO writes music in different directions: Pop, Dance, Rock, Deep Haus. But popularity brought him a new direction in his work "Modern-Cossack style".
The performer was lucky enough to visit the TV show "Hello Andrey" with Andrei Malakhov, with the incendiary hit "Black".
In Germany, the artist has already achieved several successes, in 2021 MY-RO became the winner
"NOISE 2021 Prizes", his songs are heard on Russian radio stations, television. Artist
performs with concerts for Russian-speaking residents of Germany at large concert
sites.