The theme of the deportation of Circassians, which occurred after the end of the Caucasian War, was reflected in the new composition of the popular Caucasian singer.
Listen and download the track: on all major music services, including: iTunes, Google play, Apple music, Beeline Music, Yandex.Music, as well as in the BOOM application (for users of social networks Vkontakte and Odnoklassniki).
Rough exile and mass destruction of the people brought a lot of misfortune to innocent people, and the grief of loss and persecution still remains an overt wound in the hearts of the Circassians. This time is gone through, the people survived and returned to their native land, but people will never forget what they had to experience ...
But even at that time, the Circassians never lost their fortitude and hoped that they would definitely return to their homeland. That's about it and decided to sing Angelica Nachesova, asking to write words to the new composition of the poet Arthur Kencheshaov.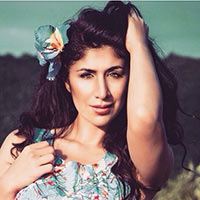 "I am very grateful to Arthur for so subtly feeling the necessary thought and able to reflect it accurately and sincerely," says Angelica, "the arrangement was made by Azaur Mish. I decided that such a lyrical song could be perfectly embodied by a professional composer. Especially for this project, we recorded the sounds of the folk Adyghe instrument of Shichepshin, which to the necessary degree reflected all the pain and sadness of the composition.
We wanted to share this song with a lot of people, so we are releasing it in Russian. But in the future, the track will be re-recorded and released in the Adyghe, necessarily. "
The song "We will come back ..." was first performed at the solo concert of Angelica Nacheva. On the stage, during the performance of the track, the Ensemble of the Adyghe dance "Abreki" conducted a performance of some of the paintings that reveal the theme.
Today, all fans of Angelica have a great opportunity to get acquainted with her new song - it is available for listening and downloading on all digital platforms!