Now we can say with confidence that the composition "Stop Music" has become a kind of visiting card for the duet. She is asked to be broadcast by radio listeners, she is an indispensable participant in every concert performance of Islam and Zulfiya
Since November last year, the composition, which is essentially a reincarnation of the music and atmosphere of the 90s of the last century, has been on the air of Radio Chanson. The video clip of the same name has collected more than five and a half million views on YouTube, forty thousand likes and almost two thousand grateful comments.
Another recognition of the hit by the audience was a prize in Odnoklassniki chart. In a team of such millionaires as "Bitter Taste" by Sultan Laguchev (first place in the chart) and "She Loved Roses" by Islam Itlyashev (fourth), the song looks great. But success did not come immediately.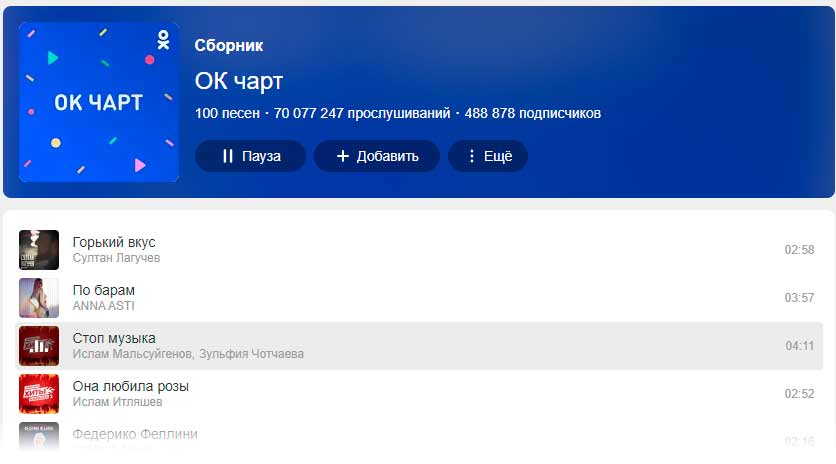 "The composition "Stop Music" has a rather long history, it is practically a folk song, at least it was considered as such already in 2003, when I heard it for the first time. Heard and postponed for the future, because I liked it. In the future, when our creative career was already on the rise, we did not dare to perform for a long time, but in the end, after a long work, the track was released to the people in January 2021.
In our performance, it seems to me, we got a successful dynamic version - more suitable for dancing and fun. And it was this version - simple and rhythmic - that the listeners liked, which shows the place in the general chart. The popular vote is actually the best reward for a performer, and Zulfiya and I are very happy about this. We express our deep gratitude to our audience for the support and votes that you give for us!"
The duet of Islam Malsuigenov and Zulfiya Chotchaeva is not going to stop there, new premieres, video clips and performances are planned. The current popularity only inspires artists - ahead of tours throughout Russia, including the east of the country, in the schedule - a lot of private events. And the next event participation of our star couple in the annual musical marathon "Ehh, Razgulyay!", which will be held on November 26 at the Megasport Palace of Sports in Moscow.
Concert director phone: +7 (925) 740-8588 (Victoria)