Nata Sozaeva @natu_sozaeva presented today the song "Altyn" ("Gold") - a fun, comic song, performed in two languages: Balkar and Kabardian.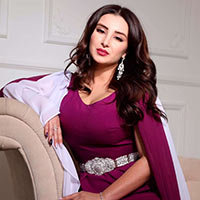 "We live in the Caucasus, and the topic of creating a family is always relevant. There are different situations in life when, for example, a sympathy appears between a guy and a girl, but the guy is still pulling time, is being decided. And just in this song it is said that if a guy does not put a gold ring on his finger, then the girl will not believe his words anymore and will not marry him.
A single in two languages ​​because romantic feelings sometimes appear between seemingly completely different people whose native language is different. And this song, as it were, says: "if you do not understand the Balkar language, I can explain it in Kabardian." But, as they say, love has one language, and at all times it is expressed in musical form. I wish you a pleasant listening! " - says Natu Sozaeva.
Listen and download the song "Altyn" by Natu Sozaeva
Lyrics of Natu Sozaeva's song "Altyn"
Kelme, Kelme Körurg
Karailmam Közlering,
Kyuru Sözle Aytas
Köp zamandan kaitmaisa
Altyn zhyuzyuk almasang
Barmagyma salmasang
Sözlering Iinanmam
Erge sanga bpralmam.
Uk'emyk1ue lagoonlaguu
Wi Muradher Narylagush
Psalie dae zhep1e f1ex1
Uimy1hehe zu gukek1
1elyn ts1yk1y komyschehuau
Si Xnumxahuambam qomylhjau
Hyunkyu zhyp1heher si f1
Di nashpher zepyt
Do not come to me on a date
I can't look into your eyes.
You only say words, but no action ...
And after a while you disappear.
Chorus:
If you don't take (give) a gold ring
And you won't put it on your finger
I won't believe your words
And I won't marry you.