Ruslan Hasanov presented a new single - "Tender, beloved, dear"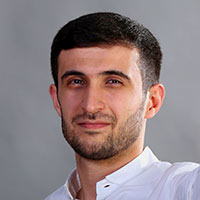 "For every man, his beloved is the best, the queen of beauty, whose feelings he cherishes and appreciates," comments Ruslan Hasanov @ruslan_gasanoff_official, - and this composition is like a dedication to all women from men who love them. I am sure when you hear her, remember your soul mate. I want to wish the ladies that kind words will be spoken to you more often, and we, men, will try to remind you of our feelings and do it beautifully.
Listen to the new product with pleasure! I would be glad to hear from you. "
Lyrics of Ruslan Hasanov's song "Tender, beloved, dear"
Tell me why you are jealous of me for everyone
Why, dear, you shed tears in vain
You know perfectly well that I love you alone,
Don't be jealous or you will go crazy
Though far from you sometimes, but still
There is not a minute that I do not think about you,
After all, for me in the world you are not dearer,
You are my happiness that lives in my destiny
Gentle, beloved, dear,
I give flowers only to you,
Gentle, beloved, dear,
You give me joy and dreams
Gentle, beloved, dear,
For me you are a beauty queen
Gentle, beloved, dear,
Please smile and don't be sad anymore
Let the years fly by, but I still do
I want to meet the dawn with you alone
My every moment with you is even brighter than the sun,
You are the most fabulous and brightest light
Only you alone inspire more and more
You are magic, you are the light of my soul
Dear, you have no idea at all
That in this life I only need you
Gentle, beloved, dear,
I give flowers only to you,
Gentle, beloved, dear,
You give me joy and dreams
Gentle, beloved, dear,
For me you are a beauty queen
Gentle, beloved, dear,
Please smile and don't be sad anymore