Performer presented a new composition to the words and music of Laura Aliyeva - "Don't go"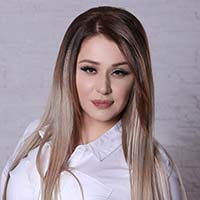 "This is a song about a proud girl who remains true to herself and her word. Despite the three-year courtship of the horseman and even the fact that she recognizes a worthy person in him, the heroine of the composition remains unapproachable. It seems to me that a girl should be like that: confident and honest, not leading men by the nose and not giving them unnecessary hopes. I'm sure the new product will appeal to the listeners. Enjoy the incendiary dance track, and I will wait for your feedback, "says the artist. @official_amina_kukolka
Lyrics of Amina Magomedova's song "Don't go"
You called me dear
With your heart's depth
In the eyes, drowning in the sea
I asked more than once - Amina stop
No, get over your desires
Fall out of love with your dreams
Do not wait in vain
Unrequited fruits
No, get over your desires
Fall out of love with your dreams
Do not wait in vain
Unrequited fruits
Don't walk, don't walk, don't you walk with me
Go away, go away, don't stand under the window in vain
Don't walk, don't walk, don't you walk with me
Go away, go away, don't stand under the window in vain
He threw a hat into my window
I waited for an answer for three years
He boldly threw a challenge to his heart
But don't wait for my love
No dear friend, jealous
We cannot pass by destiny alone
I am happy to you
I wish in life's journey
No dear friend, jealous
We cannot pass by destiny alone
I am happy to you
I wish in life's journey
Don't walk, don't walk, don't you walk with me
Go away, go away, don't stand under the window in vain
Don't walk, don't walk, don't you walk with me
Go away, go away, don't stand under the window in vain
You dared a horseman, handsome and stately
Mind gifted, no doubt
And there are no black spots in my soul
But the answer is still the same - no
No, suffering is not funny to me
Everyday dirty linen is not mine
With emptiness, your dates
Under the bleak moon
No, suffering is not funny to me
Everyday dirty linen is not mine
With emptiness, your dates
Under the bleak moon
Don't walk, don't walk, don't you walk with me
Go away, go away, don't stand under the window in vain
Don't walk, don't walk, don't you walk with me
Go away, go away, don't stand under the window in vain