The song "Pschasche tslyklu" was released in Kabardian
A new single in Kabardian language was released today by Arthur Kunizhev - the artist presented the author's composition entitled "Pschasche tsylyklu" ("My Little Girl").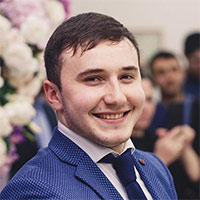 "This is a story about how a guy confesses his love to a girl, talking about her beautiful eyes, saying that he chooses her from all the girls on earth.
Maya Shidugova helped me write the words. It turned out romantic and touching. I think the listeners will appreciate it, "the performer shared.
The song "Pschasche tsylklu" by Arthur Kunizhev is already available for listening and downloading on our website.
Listen and download the song "Pschasche tslyklu" by Arthur Kunizhev
The text of the song by Arthur Kunizhev "Pschasche tslyklu"
Mak'ame dahar gush1em kyo1ook1,
Skuyumizhy1shash1au gur hoshchetyk1.
Psynem and Makim Inu Zeshesh1,
IkhureyagkNUMXe zykyzheshek1.
Utyku syreshe, laer schuemyubyd,
Kyak1ue kyzdefe, Si Thye1uhud.
Wie Nekwelanham Nuryr Kysch1ex,
Ue dahuu shchi1ham uakyhyzokh.
Pschsche ts1yk1u syze1ushchei ui ne ts1ykNNMXyyit1yr sytu deheshahe dahuu schi1em ue uahizohu psem ukilyyyueueu si dunya.
Nabdze kurasheure dahek1ey si si si the1uhudu gasch1er bonds we Sigua si psi bogepeytey f1y lagunyger nyphuzosch1 se si si pschasche Dahe Dunya nehu yu nedehit1yr sigum imyhu Se si psch1yhep1em UE uhemyk1 zheschi Mach synogupsys
Wi teplae guak xnumxuem si ner tenash,
Tempi1adzhu psar kebabyanash.
Utykum dahuu pogojerez
Si lagunyung em imennumse nez.
Wey Ji Marghe, Si Dahak1ey,
Wu ne ts1yk1wit1ymk1э кышхудэплэй.
Gupsyse 1ef1y ui syepshash,
Gurysh1е къбзер кыбдэушащ.