Presented a song in the Circassian language, which is called "Zenibzhyeguishch" ("Three Friends"), introduced today Aminat Napshev @aminat_napsheva5226.
According to the singer, she chose this folk composition for her popularity among the Circassian public, which she wanted to please with a song that adorns the musical culture of this people.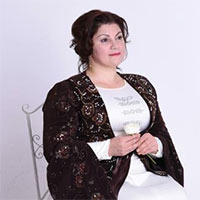 "Almost all the Abazins living in Karachay-Cherkessia speak the Circassian language. He is very melodic, sung beautifully. Therefore, Abazins enjoy listening to Circassian songs. There was a definite need to record such a single, because everyone who comes to a concert or performance wants to relax with their culture. And folk compositions are closer to people, and I like them more.
We chose this song because it has long been heard, they sing and love it.
The track tells the story of a noble relationship. In general, this is a man's song, and for a long time I could not risk performing it. But then I heard her performed by Dina Kharadurova and several other other versions of the female performance, and we decided to stop her choice. She is very melodic, she has a beautiful harmony. It is folk and has an interesting history, because this is one of those songs that were taken by our peoples to Turkey during the Caucasian War. Then, when time passed, and people got the opportunity to communicate and travel to each other, this composition returned to their homeland. So she hooked us like that.
Preparing to record "Zenibzhyeguishch", for a long time we were looking for the original version, because there are a lot of variations, but we tried to make it as close as possible to how they sing it in Turkey, to the exported original. And judging by the reviews of the Circassians living in Turkey, everything worked out for us, "comments the performer.
We also offer you to listen and download the song "Zenibzhiegyuishch" performed by Aminat Napsheva.
Listen and download the song Aminat Napsheva "Zenybzhieguishch"